My father was a New Jersey boy who went to elementary school in Manhattan in the 1940s. He loved the smell of chestnuts roasting over open fires on city street corners, a snack available almost year round when he was young. By the time I was a teenager, roasted chestnuts were primarily a holiday season treat, due to changing tastes and a perception that chestnuts were a poor man's food. (Amazingly, lobster was once viewed the same way; today, the lines that form in front of the lobster roll truck by my office at lunchtime are a sight to behold). Here is a photo of chestnuts roasting in NYC, courtesy of a fellow Flickr user:
Chestnuts–which are chewier and starchier than, say, walnuts–have been a staple food in southern Europe and parts of Asia for millennia. They can be boiled, candied, eaten raw, mashed, roasted, sautéed, steamed, or ground into flour–and have long been a favored ingredient in stuffing, vegetables dishes, casseroles, porridge, and desserts. They have less calories than other nuts and are the only nut to contain significant amounts of Vitamin C. So, as often happens when nutritious traditional foods are "rediscovered," chestnuts and the naturally gluten-free chestnut flour are making a comeback, especially in upscale U.S. restaurants and specialty stores. Demand for chestnuts in the United States outstrips supply.
There are four main species of chestnuts: European, Chinese, Japanese, and American. The American chestnut (Castanea dentata)–known as the sequoia of the east because of its height–was almost completely wiped out by blight in the first half of the twentieth century, right around the time my father was enjoying the roasted (and probably Italian) versions near his school in New York City. Four billion trees died. Before tragedy struck, American chestnut trees were highly valued not just for their nuts, which fed both people and animals, but also for their wood. Nowadays, most of the chestnuts we eat in the United States are imported, but efforts are underway by organizations such as the American Chestnut Foundation and others to breed blight-resistant American chestnuts and reintroduce them into the forests of the American east.
In the meantime, the most commonly seen chestnut trees in the United States are Chinese Chestnut trees (Castanaea mollisisma), which are resistant to blight. On a recent visit to the Audubon Naturalist Society's Woodend Nature Sanctuary, Castanea mollisima burs carpeted the ground. Here are two burs (and boy, are they prickly and sharp), one of which is beginning to open.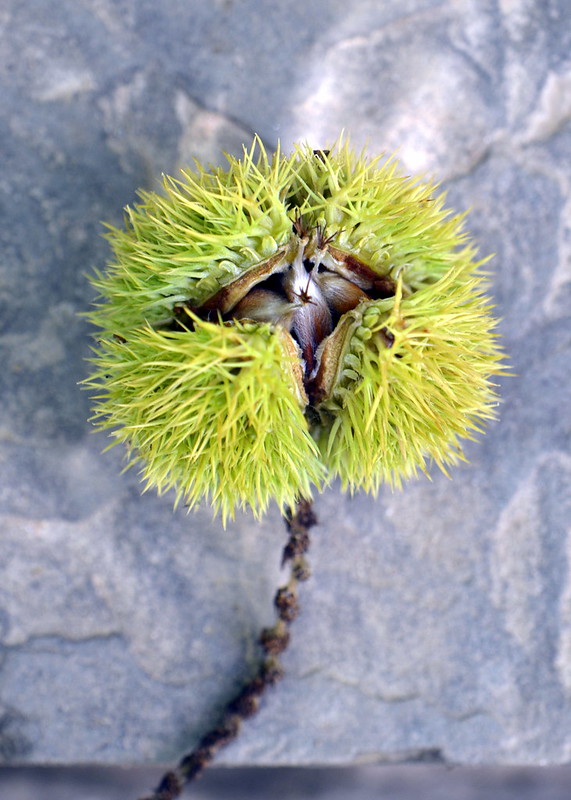 Chestnuts are harvested once the burs have fallen from the tree. Typically, there are up to three nuts inside each bur; here is a photo with one nut inside a more mature (and browner) bur. The nuts are covered by two "skins": a dark brown, hard seed coat (or husk) and a papery under layer.